Waiting in the Costa Rican airport for our return flight to Atlanta, I received an email containing an invitation to help friends in Spain prepare for an upcoming sports camp. Susan approved but since she was scheduled to work, she could not join me. So I turned to our daughter: "Karlyn, are you free in about three weeks to go on another trip with your dad?" I'm so glad she agreed… or I might still be lost in Europe.
The Bintzes have lived in Spain seven years and lead the sports section of a Christian camp. L'Arcada, which means 'The Archway.' The camp is located two hours north of Barcelona and less than an hour's drive from the French border in the Catalonia section of Spain. Susan and I visited Dave and Cindy in 2019 and were amazed at their incredible ministry in a nation where less than one per cent of the citizens claim to have a relationship with Jesus.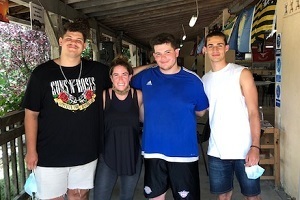 The Spanish are a beautiful people, and each is precious to our Father in heaven. It is estimated that 80% of all who come to Christ in a given year in Spain credit a Christian camp with the reason. Karlyn and I joined eight other Americans, fifteen Spanish young adults, and a half-dozen believers from other nations to get ready for the upcoming session.
I was reminded how God takes saved but imperfect people and prepares them to be His vessels of grace to bless those who don't know Him. Like me, Dave Bintz is an old basketball coach who loved to compete and win. On more than one occasion, I've noticed tears in his eyes as he shares his present passion. "Dana, these kids who come to our camps don't have hope unless they see Jesus for who He really is. We teach our sports well and we all love to compete, but our purpose is much higher. Most of these young adults who are now counselors began their relationship with Christ when they were campers at L'Arcada. Now they are pointing other kids to our Savior.'
During upcoming writings, I hope to share lessons Karlyn and I learned, people we met, and things we experienced that remind us of God's sovereign power and of our enemy's resistance. The ages of the counselors ranged from 17 to 29 and most were using their vacation time to serve. It is amazing how the love of the Holy Spirit can bind children of God together so quickly. In our short week, Karlyn and I felt like we gained life-long friends.
While we were preparing for the upcoming sports camp, another camp was winding down. One morning before breakfast, a Spanish leader named Peter and I talked about their week. He told me a story from the previous day.
"At our evening gathering, one of our young counselors shared about our Heavenly Father. Remember, in our country there is such a sad history of people using religion as a weapon that few people even want to hear God's name. In fact, we know parents sometimes tell their children: 'Have fun, learn a lot, but don't listen to the talk about God.' After the assembly concluded, the counselor who had spoken saw two young teenage girls off to the side crying. She went to them and asked: 'Did I say something that offended you? If I did, I am so sorry.' The girls replied: 'No, what you shared was beautiful. We just never knew anyone loved us the way you say God does.'"
Is this not the desire of Jesus and the work of the Holy Spirit… to let God's love be known? May this also be our goal and may our lives reflect our Savior in a substantial way.
"I pray that you, being rooted and established in love, may have power, together with all the Lord's holy people, to grasp how wide and long and high and deep is the love of Christ, and to know this love that surpasses knowledge — that you may be filled to the measure of all the fulness of God." Ephesians 3:17-19