After changing planes in Paris, Karlyn and I landed in Barcelona and were picked up by Dave and Cindy Bintz. We joined a football coach and his wife from Indianapolis, two young men from Mexico, and Maggie, who was invited to lead the first ever cheerleading camp at L'Arcada Sports Camp.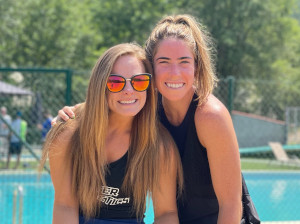 Noticing her size, Karlyn asked Maggie if she was a 'flyer' and the answer was 'yes.' She coaches high school and college teams in Texas and she and her husband own a gym in Tyler. She is well-qualified, having cheered at Baylor University and for the Indianapolis Colts and Houston Rockets.
I learned a lot from Maggie the week we were together. From our initial van ride through Catalonia, to daily work assignments, to welcoming kids the first day of camp, she did everything with excellence and enthusiasm. But Maggie's 'transparency' impacted me most.
An 'honest and real' person stands out. When calling Nathaniel, Jesus said: "Here is a true Israelite, in whom there is nothing false." (John 1:47) What a compliment! I think Jesus would give a similar description to Maggie: "Here is one without pretense… who has found her identity in Me. Here is someone you can trust."
Transparency produces transparency. Our group of thirty coaches and counselors were challenged by L'Arcada leaders to become a 'team' before the Spanish teenagers joined us. Physical work, team-building activities, time in God's Word, eating all meals together, and occasions for fun and competition filled our days and nights. Each afternoon we met for coffee and snacks while five or six were invited to share testimonies and experiences with Jesus. I believe because people were willing to be 'real' with one another, God brought unity. Though there were vast differences among us, God's Spirit bound us together in love.
Honesty and transparency lead to vulnerability, but Jesus intends such an atmosphere to exist within His Body. If C. S. Lewis was correct, Jesus expects us to be vulnerable. In his book 'The Four Loves,' Lewis wrote: "To love is to be vulnerable." And of course Jesus said: "My command is this: Love each other as I have loved you."
"Full of grace and truth," Jesus lived a vulnerable life of love. Knowing His message would not be understood, He revealed the kingdom of God. Knowing He would be persecuted, He healed on the Sabbath. Knowing He would be criticized, He ate with sinners. Knowing all would desert, one would deny, and one would betray Him, Jesus shared daily life with His twelve apostles. Knowing He would be killed, Jesus told who He really was… the Chosen King of kings.
Today the Lord encourages us: "You are not perfect, but I am… trust Me as I live in you. Love others by being 'real' with them. Live in Me, and I will bring fruit."
"I am not writing you a new command but one we have had from the beginning. I ask that we love one another. And this is love: that we walk in obedience to His commands. As you have heard from the beginning, His command is that you walk in love." II John 5-6