Summer is coming to a close. School has already begun. Our eyes are on Jesus.
At the end of May I shared the report of cancer's return. I was scheduled to start treatment the last week of July but COVID hit our family and everything changed. Being eight months pregnant, Kinsey had the toughest time with the virus, but we are all thankful to be feeling better. I'll share details later, but it looks like I'll start a new chemotherapy to fight multiple myeloma this week. We appreciate your prayers.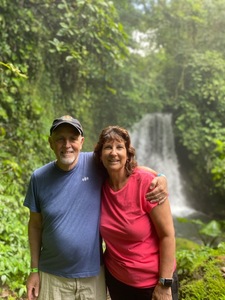 Susan and I celebrated our 40th wedding anniversary in Costa Rica and Karlyn joined us as 'trip photographer.' 'Pura Vida!' is the most common phrase used in this beautiful Central American country. Technically translated 'pure life,' the statement is rich with meaning.
The people we met in Costa Rica were kind, joyful, and welcoming. 'Pura Vida' served as 'good morning', 'farewell,' 'have a nice day,' and 'enjoy the simple life.' 'Pura Vida' is a great reminder to not take blessings for granted and to be thankful we are alive.
Jesus uses the term 'abundant life' as He invites us to come to Him to experience the Father's best. 'Don't live the way the world lives… chasing endless goals that rob you of the joys of simple living. Don't be anxious about the things the world worries about. Receive life from Me today and let tomorrow take care of itself. Come to Me and learn from Me… am I anxious or fretful? No, I am humble and gentle, knowing My Father is in control and is faithful to care for all His children. Put My words into practice, trusting Me completely, and you will find true peace, lasting joy, and pure life.'
People will tell you such a manner of living is totally unrealistic and impractical today, but we must not listen to societal wisdom. The wisest Man to ever live rejected the world's philosophies and embraced the simple life of obedient reliance on His faithful Father… a life of love.
Challenging Christian leaders, Henri Nouwen once wrote this:
It is not a leadership of power and control, but a leadership of powerlessness and humility in which the suffering servant of God, Jesus Christ, is made manifest. I, obviously, am not speaking of a psychologically weak leadership in which Christian leaders are simply the passive victims of the manipulations of their milieu. No, I am speaking of a leadership in which power is constantly abandoned in favor of love. It is true spiritual leadership. Powerlessness and humility in the spiritual life do not refer to people who have no spine and who let everyone else make decisions for them. They refer to people who are so deeply in love with Jesus that they are ready to follow Him wherever He guides them, always trusting that, with Him, they will find life and find it abundantly.
Pura Vida!
Quote from Henri Nouwen, 'In the Name of Jesus', ©1989 Crossword Publishing, p. 82