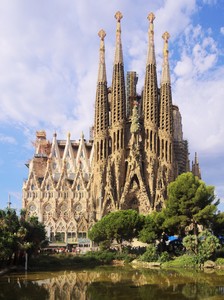 Despite the majestic basilicas, impressive cathedrals, and rich history of the nation, less than 1% of the 47.5 million people of Spain claim to have a true relationship with Christ. Young people do, however, find Jesus in the 25 Christian camps throughout the country. Since L'Arcada has been in existence nearly thirty years, children of campers who came to the Lord quite a while ago are now attending the same camp their parents did
Dave and Cindy Bintz, missionary friends we visited in 2019, speak about the transformation that takes place as a young person puts faith in our Savior. At the end of a summer, most leave camp and return to a town where there are few, if any, followers of Jesus. L'Arcada has a strategic plan to stay in touch, disciple new Christians, and help them find churches, but the lack of fellowship is a real challenge.
Dave and Cindy witness the fruit of the Holy Spirit as the young people return to summer camp as workers or campers. "Sometimes, we will stand outside the kitchen door and listen to the teenagers sing praises to Jesus as they wash the dishes. They are so happy to be in fellowship with others who also have experienced the life Jesus gives. We often cry for joy."
This must be the joy Paul experienced as he thought about and prayed for the churches he and others planted throughout the world. He once wrote to the Colossians:
"We always thank God, the Father of our Lord Jesus Christ, when we pray for you, because we have heard of your faith in Christ Jesus and of the love you have for all God's people — the faith and love that spring from the hope stored up for you in heaven and about which you have already heard in the true message of the gospel that has come to you. In the same way, the gospel is bearing fruit and growing throughout the whole world — just as it has been doing among you since the day you heard it and truly understood God's grace." (Colossians 1:3-6)
God gives the gift of His Spirit to those who receive Jesus as Lord. "And you also were included in Christ when you heard the message of truth, the gospel of your salvation. When you believed, you were marked in Him with a seal, the promised Holy Spirit…"(Ephesians 1:13) The gospel brings life, change, and fruit. We can thank God for His Spirit; we can pray for our brothers and sisters throughout the world; and we can ask Him to use us to spread His kingdom.
"We continually ask God to fill you with the knowledge of His will through all the wisdom and understanding the Spirit gives, so that you may live a life worthy of the Lord and please Him in every way: bearing fruit in every good work, growing in the knowledge of God, being strengthened with all power according to His glorious might so that you may have great endurance and patience, and giving joyful thanks to the Father, who has qualified you to share in the inheritance of His holy people in the kingdom of light. For He has rescued us from the dominion of darkness and brought us into the kingdom of the Son He loves, in whom we have redemption, the forgiveness of sins." Colossians 1:9-14
(photo by C messier – Own work, CC BY-SA 4.0, Wikimedia Commons)