Susan, Sherill, and I joined two different 40-day prayer circles this summer, following Mark Batterson's 'Draw the Circle' prayer challenge. After brief daily readings, each of us lifted up requests, praises, and intercession to our Heavenly Father over these 40-day periods. In the process, we learned to live with a renewed anticipation of God's work in our lives.
We all pray, but it seems when a fresh emphasis is given and there is a commitment to focus more intently, change takes place. Sherill, who told us she never remembered dreams, started recalling dreams with great clarity. None of us knew exactly what they meant, but we all agreed Sherill should pray for anyone she dreamed about. Becoming more aware of God's presence, Sherill grew in faith. She inspires us constantly.
In one chapter of his book, Batterson quotes Leonard Ravenhill, an evangelist born in England in 1907 who ministered in the United States from 1950 until his death in 1994. He influenced many leaders such as Keith and Melody Green and Ravi Zacharias, who in turn inspired multitudes of searchers, young and old, to passionately follow Jesus.
"One of these days some simple soul will pick up the Book of God, read it, and believe it. Then the rest of us will be embarrassed. We have adopted the convenient theory that the Bible is a Book to be explained, whereas first and foremost it is a Book to be believed (and after that to be obeyed.)"
Like repenting, giving, reading the Word… praying is easy to talk about, but more difficult to really do. God does not just want His people to be quick to say: "I'll pray for you"… He wants us to do it.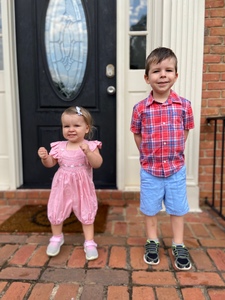 Without sharing specific details about two 'emergency' prayer needs from summer, there is one day Susan and I will always remember. We volunteered to watch Kinsey's and Jordan's kids in Marietta one Monday while Kinsey kept an appointment. At lunch time, Susan surprised me a bit and said to four-year-old Owen, one-year-old Keightley, and her sixty-year-old husband: "Before we eat, we need to get down on our knees and pray about this important matter."
Owen looked a little confused, but he joined Susan and me on the kitchen floor. Little Keightley was the best… she got on her knees and folded her hands as Susan lifted a one-minute critical request to our Father in Heaven.
After lunch, I received an urgent phone call with dire news. I walked outside with my phone and received details regarding a life-altering, seemingly hopeless situation in another state. I returned to the house and said to Susan and the kids: "Guys, we've got to get down on our knees and pray about something else." No one argued… we just did it.
The second prayer was answered in ten minutes… spectacularly. The lunch prayer was answered in ten days… spectacularly. That same Monday evening at dinner, before eating a bite, Owen told his parents they all needed to get down on their knees to pray before the meal. Perhaps children learn a little quicker than we do.
So here's a word of encouragement to all who follow Jesus: just do it.
"What good is it, my brothers, if a man claims to have faith, but has no deeds? Can such faith save him? Suppose a brother or sister is without clothes and daily food. If one of you says to him, 'Go, I wish you well; keep warm and well fed,' but does nothing about his physical needs, what good is it? In the same way, faith by itself, if it is not accompanied by action, is dead." James 2:14-17
Quote from "Draw the Circle" by Mark Batterson; ©2012; Zondervan; p 201