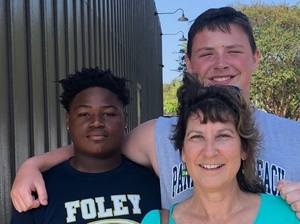 Early in July, sixteen-year-old John Turner tested positive for COVID-19. He felt terrible for three days and then dealt with severe headaches for almost two weeks. He, Terri, Daniel, and sister Leesa quarantined fourteen days in their home in Foley, Alabama, which was no easy assignment. Wisely, Terri waited three days after the mandated period to have John tested again and the result came back negative. If the result had been positive, another fourteen days of quarantine would have been required.
After returning to football practice, John told me last weekend that his blood pressure has been running high. I told him to be careful because doctors are finding cases of athletes suffering with heart issues after bouts with the virus.
The day after our conversation, John went to the trainer during practice saying his heart felt like it was about to explode. Before the trainer could do anything, John passed out. He was taken to the ER where tests were done. Terri texted around 9:00 that evening saying he was released and feeling better.
Two days later, John's teammate and best friend Isaiah found his mother dead in their house. While she had been struggling with some health problems, the passing was unexpected. Isaiah's father died a few days before this past Christmas. With his older siblings out of the house, this senior in high school is all alone.
John was one of the first to comfort his friend. He told me he could not forget the image of Isaiah's mother lying on the bed with a sheet pulled over her head. Terri and Daniel agreed with John's offer for Isaiah to move in with them. A memorial service is planned for this weekend.
Such stories of hardship and loss are playing out all over the world. But "God is close to the brokenhearted." (Psalm 34:18) How many times have we received His comfort? How many times have we been rescued? How much compassion have we experienced? As we've learned to sing our prayers to God, may we extend the comfort, mercy, and love we have received to all around us.
Lord, I come, I confess
Bowing here I find my rest
Without You I fall apart
You're the One that guards my heart
Lord, I need You, oh, I need You
Every hour I need You
My one defense, my righteousness
Oh God, how I need You.
"Praise be to the God and Father of our Lord Jesus Christ, the Father of compassion and the God of all comfort, who comforts us in all our troubles, so that we can comfort those in any trouble with the comfort we ourselves have received from God." II Corinthians 1:3-4
"Lord, I Need You" by Matt Maher (©2013)