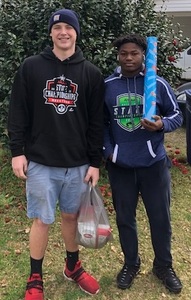 John and his best friend Isaiah made it to the state wrestling tournament in Alabama's largest high school classification. Susan and I arrived in Birmingham in time to see their final match Friday night, then we watched all day Saturday.
In the 195 pound category, Isaiah lost his Saturday match by one point in double overtime. John won two intense contests before losing in the 220 pound category. He placed fourth and is only the second wrestler in school history to medal in the Alabama state wrestling tournament.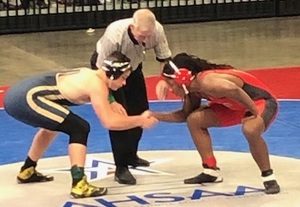 It is hard to explain the feelings when 'your boys' enter the 6 minute contest… intensity deepens, the cheers are louder, and the heart beats faster. Susan and I experienced every emotion this past weekend… the thrill of victory… and the agony of defeat. We could not change the call of a referee or the strength of an opponent or the decisions of a coach… but we were 'involved' each minute John and Isaiah competed.
Jesus tells of the Father who cares even more deeply for His sons and daughters. Jesus knew His Father's love every day He walked the earth, and He wants us to experience the same love. God did not remove the hardship of persecution or the pain of suffering from His Son. He did not reverse the schemes of the wicked who carried out injustice, but Jesus knew His Father was with Him. He and His Father are One and He invites us into this circle.
"Live a surrendered life as I lived a surrendered life. It will not be trouble-free, but I will be with you… and you will experience My peace and My joy. My God is your God; My Father is your Father (John 20:17)… and He is the best Father ever!"
"The One who sent Me is with Me; He has not left Me alone, for I always do what pleases Him." John 8:29
"Because I live, you also will live. On that day you will realize that I am in My Father and you are in Me, and I am in you. Whoever has My commands and keeps them is the one who loves Me. The one who loves Me will be loved by My Father, and I too will love them and show Myself to them." John 14:19-21
"My prayer is not for them alone. I pray also for those who will believe in Me through their message, that all of them may be one, Father, just as You are in Me and I am in You. May they also be in Us so that the world may believe that You have sent Me." John 17:20-21