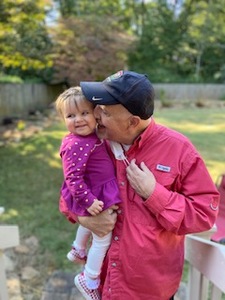 The child of God cannot wait until official holidays to thank our Father in heaven for His incredible blessings of love and mercy. We recently celebrated Keightley's second birthday. She is so sweet and unique. Everyone calls me Opa as a Grandpa, but a month ago Keightley started calling me Opie. I told Kinsey her daughter has permission to call me anything she'd like.
Taylor's volleyball team ended up with the state runner-up trophy this year after an incredible season. Saturday, as I watched his girls battle a strong Holy Innocents' team, I could not help but remember a thought I had last year as Hebron won the state championship: "Wouldn't it be great if Taylor's youngest sister Karlyn could have the opportunity to coach while teaching school?" I shared this thought with others and it became a matter of prayer.
As you know, Karlyn was hired at GAC to fill a late opening at the very end of the summer. She loves her students and is doing a great job. After school started she was asked to help with the JV volleyball team. Now, I've been asked to coach a sixth and seventh grade girls' basketball team and the varsity coach asked Karlyn to be her dad's assistant. What a joy! (If you want to see some excellent basketball, I can probably arrange some tickets…)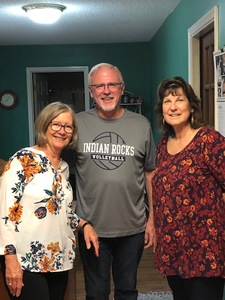 This past weekend Dave and Cindy Bintz visited our home. Dave was a coach and athletic director in Florida for 37 years before God called him and Cindy to the mission field. Susan and I visited them in the Catalunya region of Northern Spain in the summer of 2019. Camp L'Arcada (which means 'The Archway') was established in 1991 and the Bintzes have run the athletic section of the Christian camp for the past six years.
Less than 1% of the citizens of Spain know Jesus as Savior and Lord. Familiar with the tragic episodes of abuse in their nation's history, generations have rejected or simply ignored all religion. Young people love sports in Spain and Christians from Europe and America have used athletics as an avenue to present the gospel. Only after trust is built and relationships are established does there seem to be a chance to effectively share the life-giving message of Jesus Christ. There are 25 Christian camps throughout Spain and it is estimated that 80% of all who come to Christ in the whole country find Jesus in these settings.
Susan and I witnessed the beautiful way Dave and Cindy serve God. Though living in a culture very different from ours, they love people and pray for all to come to know the Father who created them and gave His only Son for them. The Bintzes work hard, believing the gospel has the power to overcome all the strategies of Satan, whose aim is to keep everyone in darkness.
The apostle Paul had this same hope. Once he saw the light and surrendered his life to the King, he wanted all people everywhere to understand and experience a righteousness that could never be gained by human effort. Everyone, Jew and Gentile, has sinned and fallen short of the glory of God, but through Jesus a way has been made for any person to be saved. Paul declared the power is the gospel. He, as have multitudes in the centuries to follow, shamelessly made every effort to proclaim the 'good news' to the world. Let's give thanks for the gospel.
"Now brothers and sisters, I want to remind you of the gospel I preached to you, which you received and on which you have taken your stand. By this gospel you are saved, if you hold firmly to the word I preached to you. Otherwise, you have believed in vain. For what I received I passed on to you as of first importance: that Christ died for our sins according to Scriptures, that He was buried, that He was raised on the third day according to the Scriptures, and that He appeared to Cephas and then to the Twelve." I Corinthians 15:1-5
"For I am not ashamed of the gospel, because it is the power of God to bring salvation to everyone who believes: first to the Jew, then to the Gentile. For in the gospel the righteousness of God is revealed – a righteousness that is by faith from first to last, just as it is written: 'The righteous will live by faith.'" Romans 1:16-17