I am back in the math classroom this school year and I am happy John Turner is one of my students. Though Taylor, who had me for Algebra II, warned John that I would be tougher on him than anyone else, John reported this week that math was his second favorite class. (It's hard to beat art.)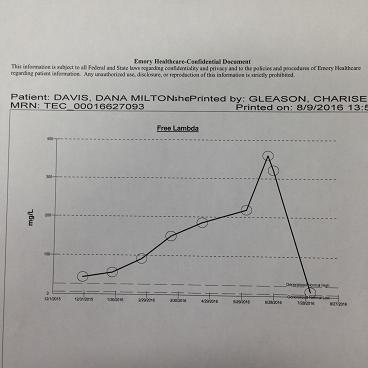 One of our recent lessons was an introduction to charts and graphs. I gave my students an example of a beautiful graph I received from my doctor just a few days ago. Sixteen years ago yesterday, I first learned I had the blood cancer Multiple Myeloma, which still has no known cure.
The graph shows the increase of cancer from December of 2015 to July of 2016. This has happened at least a dozen times over the years and it always requires a change in treatment. In the spring of this year, we changed drugs and the results were not good. Not only did the drug not drive the cancer count down, it was much more difficult on my body.
This chart shows the average measure for a healthy person is between 10 and 25. By July this count in my bloodstream had grown to 360 so we changed drugs again. As you can see, after one round of the new regimen, my count dropped to 12.1, the measure of a normal person.
We praise God for His continued goodness and grace. Susan and I never take such good news for granted as we have lost many friends and acquaintances in our Atlanta support group over the years. We thank God first, then so many of you who have faithfully prayed for us. We also thank my doctors and nurses whom I've gotten to know quite well over the course of time.
We will continue this treatment as long as it is effective. Meanwhile, I pray I can be a good husband, father, son, teacher, and grandpa. (If you haven't heard… it is a lot of fun being a grandpa.)
"He reached down from on high and took hold of me; He drew me out of deep waters. He rescued me from my powerful enemy, from my foes who were too strong for me. They confronted me in the day of my disaster, but the Lord was my support. He brought me out into a spacious place; He rescued me because He delighted in me." II Samuel 22:17-20