On our first day at L'Arcada in Northern Spain, all those preparing for a week of Sports Camp gathered in a small house to focus on the One who brought us together… the One we wanted all the campers to know. Going around the room, believers from several nations introduced themselves. One girl about Karlyn's age said she was from Ecuador.
Tania had a good job in Quito where she grew up in a loving family. She told her parents she felt it would be good to take a few months to travel to another part of the world to figure out her purpose in life. The parents agreed to her request and arrangements were made to visit Spain, a country where Tania had no family or friends.
She ended up in Barcelona where all her money and important documents (except passport) were stolen. God's mysterious ways began to unfold as a follower of Jesus met this distraught young lady and asked if she needed help. Tania was invited into the home of a Christian family where she discovered an uncommon love. The family's small church took up a collection and all Tania's lost funds were replaced. At the church she was also told of a camp she might like to visit a little further north.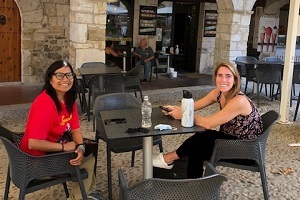 The leaders of L'Arcada met Tania and asked if she'd like to volunteer to work a few weeks. Karlyn and I met Tania during her first week of camp. A couple of days later we all visited Besalu, a town built by the Romans in the 10th century. Drinking coffee outside a café, Tania showed us a picture of her family on vacation and something looked familiar. "Where was this picture taken?" I asked. "We were in a town called Riobamba," she answered. Karlyn and I just laughed as we have spent many weeks in Riobamba working with Pastor Manuel and his family. Should I think: 'What a small world?' or should I say: 'Our God is an awesome God!'?
Tania asked: "Mr. Dana, what is the will of God? I am experiencing things totally foreign to me and I want to better understand." So how would you answer such a question? God's will is that we all come to Him by putting our full trust in Jesus Christ, His Son who died for our sins and rose from the dead. God's will is that His Holy Spirit live in our hearts and that we let Him mold us into the image of the Son. God's will is that we find abundant life in Jesus. Tania soaked in every word with the sweetest smile on her face. We all prayed together and Karlyn paid for our coffees.
Karlyn also gave Tania Pastor Manuel's son Marco's contact information in Ecuador. In a video chat a few days ago, Marco told us he got an interesting text from someone in Spain saying they had a mutual friend. Marco plans to meet Tania in Quito when she returns to Ecuador and help her connect with a church. Of course Tania is concerned her family will not understand her experiences in Spain but I told her God gives us wisdom and grace as we depend on Him.
In a country where less than one percent know Christ, a young lady on a trip to a far country to 'find herself' instead found the One who created her and knows her better than Tania knows herself. Our Father in heaven longs for everyone to ask Tania's simple question: 'What is the will of God?' May all find the answer in the Son of Man who was lifted up to draw all people to Himself.
"For the grace of God has appeared that offers salvation to all people. It teaches us to say 'No' to ungodliness and worldly passions, and to live self-controlled, upright and godly lives in this present age, while we wait for the blessed hope — the appearing of the glory of our great God and Savior, Jesus Christ, who gave Himself to redeem us from all wickedness and to purify for Himself a people that are His very own, eager to do what is good." Titus 2:11-14