The two oldest sons of Rex and Barbara Davis were born in Houston, Texas. We moved to Chattanooga when I was four years old where my sister and youngest brother were born. I've always felt connected to Texas, and my dad tells me the family roots go back over a century.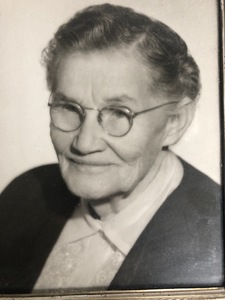 This is a black-and-white picture of my great-grandmother, Viola Gray. Living on a farm in Arkansas, her husband left her so Viola accepted a relative's invitation to join a homesteading effort in West Texas. Pregnant, she traveled in a horse-drawn wagon with her only child, six-year-old Gracie. In Denton, Texas she paused to have baby Nola, my grandmother, on April 30, 1900. Gracie was born in 1894 and Viola was born in the early 1870's, as the Comanches and settlers were fighting in the wild West.
Gracie lived in three different centuries, dying in the year 2000 at the age of 106. She was a witty, vibrant woman and I have fond memories of visits to her home in Arkansas. Nola died in 2003 at the age of 103. We took great family trips to my grandparents' home in Rockford, Illinois when we were growing up.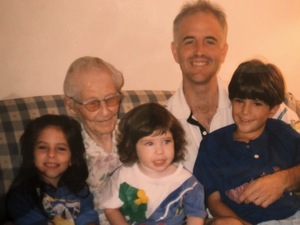 Once Susan and I took Taylor, Kinsey, and Karlyn to visit their great-grandmother. As Grandma told of life in West Texas on the Pecos River, it made me wonder how the two oldest daughters of Viola lived a decade, much less a century.
There were places on the Pecos River where patches of quicksand earned it the nickname, 'graveyard of cattlemen's hopes.' My grandmother and her older sister recalled jumping from skeleton to skeleton of unfortunate cows and horses across the quicksand to get from one side of the narrow river to the other. I'm not sure they had permission from Viola to do this, but they thought it was fun.
Each of us probably have stories of 'narrow escapes' in our past. Most definitely, there are stories from each of our family histories where one misstep or one different turn would have canceled our existence. If young Nola had slipped and drowned in the Pecos River, my dad would never have been born… and I would not be writing this.
Luck… happenstance… coincidence… fate… destiny… different words are used for the mysterious turns of life, but God understands perfectly: "Before you were born, I knew you and had a plan for your life. Don't spend a lot of time trying to figure out what you can't understand… just know you're not an accident. The devil tried to destroy My Son shortly after He was born, but I prevented it. Because He lives, you live and I want you to find your entire identity, purpose, and joy in Him. You are loved more than you can imagine."
"How great is the love the Father has lavished on us, that we should be called the children of God. And that is what we are!" John 3:1
"Before I formed you in the womb I knew you, before you were born I set you apart…" Jeremiah 1:5
"The dragon stood in front of the woman who was about to give birth, so that it might devour her Child the moment He was born. She gave birth to a Son, a male Child, who 'will rule all the nations with an iron scepter.' And her Child was snatched up to God and to His throne. The woman fled into the wilderness to a place prepared for her by God…" Revelation 12:4-6