I've always been pretty good at sneaking into buildings, such as churches and especially gyms. Of course, it helped while growing up that my dad was the keeper of many keys as the head of a school, but even without a key, there's usually a way.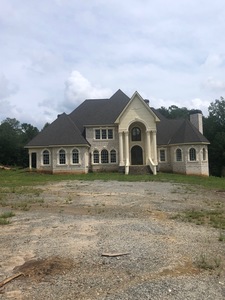 Not long ago, I found the one weakness in a huge house not too far from where we live. It sits by itself a quarter of a mile off a main road and is quite beautiful. Inside, I counted five fireplaces, three huge rooms with domed ceilings, and thirteen potential bedrooms.
The problem is, the mansion is unfinished. I think construction may have started eight years ago and there has been no activity the past couple of years. I am no builder, but I'd guess the house could be ready for occupancy if a hard-working crew dedicated three solid weeks to paint, finish the floors, and complete the extravagant bathrooms and kitchen. It might cost a million dollars, but I'm sure millions have already been invested.
The backstory of this house is a mystery, but it reminds me of a teaching of Jesus: "Who would begin construction of a building without first calculating the cost to see if there is enough money to finish it? Otherwise, you might complete only the foundation before running out of money, and then everyone would laugh at you." Jesus was discussing the cost of discipleship: "And if you do not carry your own cross and follow Me, you cannot be My disciple. Don't begin until you count the cost." (see Luke 14:27-29)
This instruction is not about salvation… which is a gift of God. "For the wages of sin is death, but the gift of God is eternal life in Christ Jesus our Lord." (Romans 6:23) "For it is by grace you have been saved through faith – and this is not from yourselves, it is the gift of God." (Ephesians 2:8)
We will never deserve the great salvation we've received, but if I want to be like Peter or Paul or Mary Magdalene, or Mary, the mother of Jesus, I need to calculate a bit. The volunteer who says, "I want to follow you Jesus, but first let me take care of this and that…" might be told: "You're not ready to follow Me quite yet… you see, I'm the King and everything is on My terms…" (see Luke 9:57-62)
"But Lord," I say, "I'm not sure I have what it takes. I do come empty-handed and I think I love You now more than ever, yet my faith sometimes falters. I want to be brave, but I'm sometimes fearful. Is there any hope?" I think Jesus would smile and answer: "Yes! Come to Me for what you don't have. I'm the Author and Perfector of your faith. I know how to make you brave. You won't be carrying your cross alone. I have given you the Holy Spirit! He is your Helper, your Comforter, and your Teacher. Take courage and follow Me."
"If you love Me, you will obey what I command. And I will ask the Father, and He will give you another Counselor to be with you forever – the Spirit of truth." John 14:15-17