Susan put together a good-sized box of food and I gathered some clothes to take to Jim Christmas morning. I learned later that the Lord put it on the heart of another couple to take him a few Christmas presents in the afternoon. I think God really loves the homeless.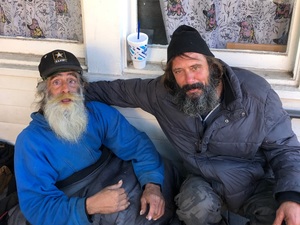 At the corner of Euclid and Moreland in Little 5 Points, I peered down a deserted street. When I looked the other direction, Jim appeared in the middle of the road walking toward my car. "Pull in here, Dana, Digger really wants to see you." He led me to a porch where Digger and three others had settled in. "Merry Christmas," I said, handing Jim the box. "I thought you'd be asleep this early in the morning." "We've not been to bed yet," Digger replied. Jim introduced me to the three I didn't know and we all talked a while before I departed.
Hillsong's lyrics "Your love's too good to leave me here…" were playing in my car as I drove through Atlanta. These words reflect God's heart as He 'desires no one to perish'… but He will not take away 'choice.' Jesus will not force us to follow Him.
"In Him was life and that life was the light of all mankind. The light shines in the darkness, and the darkness has not overcome it." But just a few sentences later, the apostle wrote: "He came to that which was His own, but His own did not receive Him." (See John 1)
"'The Spirit gives life; the flesh counts for nothing. The words I have spoken to you – they are full of Spirit and life…' From this time many of His disciples turned back and no longer followed Him. 'You do not want to leave too, do you?' Jesus asked the Twelve." (John 6:63-67)
I think Jesus wants us all to respond the way Peter did. Like him, we do not understand everything… but: "Lord, to whom shall we go? You have the words of eternal life. We have come to believe and to know that You are the Holy One of God." (John 6:68-69)
When family members or friends or strangers do not choose life, we are still to care and pray and love. Jesus tells us His Father waits for the prodigal with open arms. We should remind the wayward, the trapped, the lonely, and confused of such a Lover of souls… One who has the power to rescue, cleanse, and restore.
"When he came to his senses, he said, 'How many of my father's hired servants have food to spare, and here I am starving to death! I will set out and go back to my father and say to him: Father, I have sinned against heaven and against you. I am no longer worthy to be called your son; make me like one of your hired servants.' So he got up and went to his father. But while he was still a long way off, his father saw him and was filled with compassion for him; he ran to his son, threw his arms around him and kissed him." Luke 15:17-20
Lyrics from Hillsong United: 'As You Find Me'; ©2018