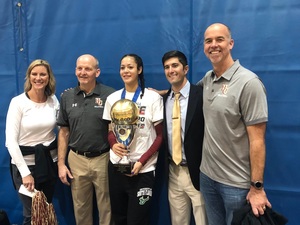 Taylor's team won the state championship in volleyball this past week. His team had an incredible season and played their best in the state tournament. It is very satisfying as a coach to see hard work and team effort pay off.
The grander celebration of the week took place a few days before when little Keightly experienced her very first birthday. Family and friends enjoyed pizza and cupcakes at Kinsey's and Jordan's house. Our grandchildren are now ages 1, 2, 3, and 4 and we are so thankful.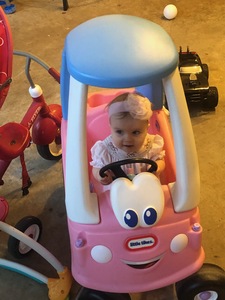 Susu has given a car to each child on the first birthday. She told me this was her plan so there would be no expectation of cars on sixteenth birthdays. Susu loves to give.
I'm glad Jesus came as a celebrating Savior. John the Baptist was called to a more austere and rugged path, living in the wilderness while calling people to repentance. Jesus, however, rubbed shoulders with all kinds of people from village to village.
His first miracle was turning water to wine at a wedding celebration. He seemed to enjoy going to the homes of 'sinners,' but He also accepted invitations from religious Pharisees. With the rich or the poor, Jesus was at ease. He came to bring life to all.
Of course, Jesus received criticism at every turn, but the man or woman of God must not be deterred by critics. "There is a time to weep and a time to laugh, a time to mourn and a time to dance…" (see Ecclesiastes 3) I like the time to celebrate!
"For John the Baptist came neither eating bread nor drinking wine, and you say, 'He has a demon.' The Son of Man came eating and drinking, and you say, 'Here is a glutton and a drunkard, a friend of tax collectors and sinners.' But wisdom is proved right by all her children." Luke 7:33-35