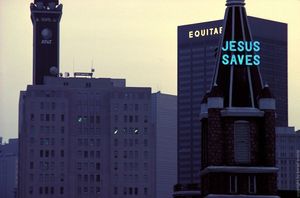 Around 5:30 Saturday morning Susan and I drove through downtown Atlanta to join other friends in welcoming Pastor Manuel, Paula, Marco, and Mayra to our city. Shining clearly in the darkness was a neon sign attached to the steeple of a church with the words: JESUS SAVES.
Marco and Mayra have visited before, but this is the first time Pastor Manuel and Paula have been on a plane and the first time they have left their country. After a joyful reunion, Rick and Melaney Cost took the tired foursome to their house and we looked forward to Sunday fellowship with several from Atlanta who have visited their home in Ecuador.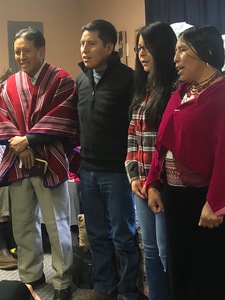 Jesus always kept two things in mind: why He did not come to earth… and why He did come to earth. "For God did not send His Son into the world to condemn the world, but to save the world through Him." (John 3:17) Jesus knew we were all lost sheep who had gone astray. Sin had entangled us all… and Jesus came to save us.
The woman caught in adultery was being condemned by religious zealots who dragged her before Jesus. But even these teachers of the law and Pharisees knew deep down they had no right to throw a stone. After they walked away, Jesus asked: "Woman, where are your accusers? Has no one condemned you?" "No one, Sir," she said. "Then neither do I condemn you," Jesus declared. "Go now and leave your life of sin." (See John 8:1-11)
"For the Son of Man came to seek and to save what was lost." (Luke 19: 10) Pastor Manuel is a messenger of this good news in the villages of the Andes Mountains, where he and Paula grew up. After riding a bus up the narrow road to such a village one school trip and realizing that Pastor Manuel usually walked the long path, possessing no car of his own, one of our teenagers asked: "What is so important that you walk two hours up a mountain to visit people you don't even know? Do you bring them something?" "I bring them Jesus," our friend quietly replied.
Jesus heard criticism from the 'righteous' and made a simple observation: "It is not the healthy who need a doctor, but the sick." The obvious truth is we are all sick… we have all been lost… "There is no one righteous, not even one…" (see Romans 3:9-18) Praise God that Jesus saves! Praise God that we have a Great Physician! Praise God that He offers the gift of righteousness! Let's spread the Word…
"For I have not come to call the righteous, but sinners." Matthew 9:13
"Salvation is found in no One else, for there is no other Name under heaven given to men by which we must be saved." Acts 4:12