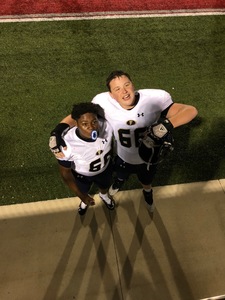 Susan and I drove to Foley, Alabama this past weekend to visit John's family and to watch him play football. This is the second year he has lived with his mom Terri, her husband Daniel, and his younger sister Leesa. We speak with him regularly and he seems to have adjusted well to small town life near the Gulf coast.
Saturday we planned to take John to breakfast before we headed back to Atlanta. He asked if his friend Isaiah could join us, as he spent the night with John after the game. Of course we agreed and marveled at the appetites of two high school boys.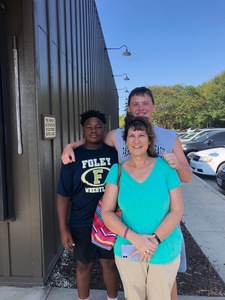 I smiled as John introduced me to his friend: "Dana was a coach… He coached Sherill Baker; she played basketball for the University of Georgia and in the WNBA. Dana is also a pastor…"
Susan thought John might have been warning his friend to be on good behavior, but I didn't think so. Isaiah seemed like the type of companion you want your kids to have. He is on the quiet side, very respectful, and extremely kind. I think John has a fine friend.
"We have found the One the prophets spoke about… you've got to meet Him!" Introductions can be important. Andrew introduced his brother to Jesus and Philip introduced a friend. Their lives were never the same.
Perhaps we can do the same… "Jesus has done miracles in my life. He walks with me day by day and teaches me to be like Him. He is the Answer to the chaos in this world and soon every person will acknowledge Him as King. I hope you'll get to know Him as Savior, Lord, and Friend. When you see how much He loves you… you'll want to love Him back."
"The first thing Andrew did was to find his brother Simon and tell him, 'We have found the Messiah' (that is, the Christ). And he brought him to Jesus. Jesus looked at him and said, 'You are Simon son of John. You will be called Cephas' (which, when translated, is Peter). The next day Jesus decided to leave for Galilee. Finding Philip, He said to him, 'Follow Me.' Philip, like Andrew and Peter, was from the town of Bethsaida. Philip found Nathaniel and told him, 'We have found the One Moses wrote about in the Law, and about whom the prophets also wrote – Jesus of Nazareth, the son of Joseph.' 'Nazareth! Can any good come from there?' Nathaniel asked. 'Come and see,' said Philip." John 1:41-46