It is funny – we go all around the world and some of the best and lasting memories are meals. The menu is not necessarily the highlight (though good food is always a part), but rather the fellowship and relationships strengthened by sharing life together.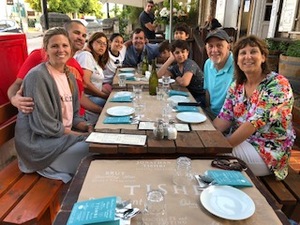 I wrote recently of our walking tour through a small town with our Jewish friend Steve… but we were in the town to have a meal together. Steve went to great lengths to choose a wonderful restaurant with the perfect Mediterranean atmosphere to enjoy fellowship and delicious food with his family and American friends.
My friend Hunter lived in Nazareth with his family for five years before moving back to Atlanta a year ago. He is a leader in Young Life, an organization who faithfully shares Jesus all over the world. My daughter Karlyn, Nate Cost, and I had the privilege of working with a Young Life Camp in Jericho during the summer of 2012. Hunter has established wonderful relationships with followers of Jesus in Arab, Palestinian, and Jewish communities.
Hunter happened to be in Nazareth when we visited this past summer and arranged for us to be invited to the home of his good friends the Haddads. Riyadh is a successful architect and his wife Manal is the chaplain of the long-established Nazareth Baptist School. With a large percentage of Muslim students, the school is a shining light for Christ as He is proclaimed while providing excellent education in a highly competitive society.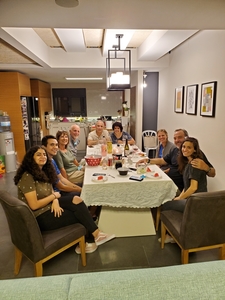 We were welcomed to the Haddad home as Jesus would have been welcomed. We learned the challenges of being an Arab Christian in Israel and we developed a quick admiration of our brothers and sisters in a lesser known section of the Body of Christ. Sitting around the family table after an incredible meal, we marveled at the extravagant hospitality of these beautiful children of God.
"What do you have planned for tomorrow's chapel?" one of the children asked their mom. "I don't have a plan yet," she replied. "Dana can lead!" Susan volunteered. Sure enough, I was invited to share a bit about our Father in heaven with middle school students the next day. But that's a story for another time…
One of Jesus's last invitations recorded in Scripture was given through the apostle John in his Revelation. Jesus announces the type of intimacy He plans for us to have with the King who humbled Himself and died on the cross. Jesus calls us to be honest and to turn from any sin in our lives so we can have fellowship. The Savior of the world is knocking on our hearts with the intent of enjoying a meal. May we daily open the door.
"Those whom I love I rebuke and discipline. So be earnest, and repent. Here I am! I stand at the door and knock. If anyone hears My voice and opens the door, I will come in and eat with him and he with Me." Revelation 3:19-20